Greece, a country known for its rich history, beautiful landscapes, and delectable cuisine, is also home to a myriad of picturesque islands.
Greece, a country known for its rich history, beautiful landscapes, and delectable cuisine, is also home to a myriad of picturesque islands. Each of these islands in Greece, from the romantic cliffs of Santorini to the lush landscapes of the Ionian Islands, offers a unique experience to its visitors. In this guide, we will take you on a journey across the best Greek islands, sharing insider tips on where to stay, what to do, and how to make the most of your Greek island adventure.
The Unforgettable Cyclades
The Cyclades, a group of more than 200 islands in the Aegean Sea, are probably the most known Greek islands. With their iconic white and blue houses, charming villages, and breathtaking sunsets, islands like Mykonos and Santorini are a must-visit for anyone traveling to Greece.
Experiencing Santorini
Santorini, popular among honeymooners and first-time visitors, is famed for its stunning caldera, a flooded volcanic crater. The island's unique geological features, including black-sand beaches and vertiginous cliffs in psychedelic hues, make it a photographer's dream.

Santorini offers more than just mesmerizing views. Take a boat trip to the smouldering crater of Nea Kameni and hot springs at Palia Kameni. Don't miss out on sampling the exceptional Assyrtiko grapes and Vinsanto wines, which are grown in the fertile grounds created by ancient volcanic eruptions.
Finding the perfect place to stay in Santorini can enhance your experience. From the cliff-side suites in Oia and Imerovigli, offering panoramic views of the caldera, to the traditional houses in the inland village of Pyrgos, the options are diverse. For a curated list of accommodations, check out these best hotels in Santorini and the best Airbnbs in Santorini.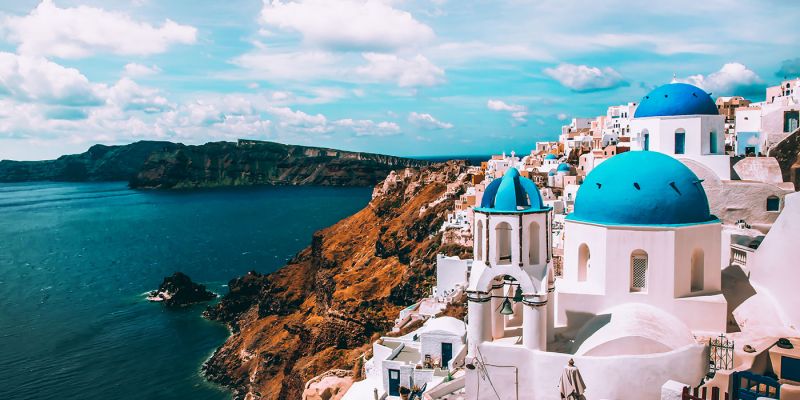 Uncovering Mykonos
Mykonos, another gem in the Cyclades, is renowned for its vibrant nightlife and stunning beaches. The island's Cycladic village, with its windmills and winding lanes, offers a glimpse into its rich past.
While you can spend your nights partying at the famous clubs like Scorpios and Super Paradise, make sure to dedicate some time to explore the quieter side of Mykonos. The Lesser Cyclades, for instance, offer an ideal setting for camping and reconnecting with nature.
On Mykonos, consider starting your vacation at The Wild Hotel by Interni, known for its boutique atmosphere and private beach. For a more romantic experience, consider spending a few nights at Kalesma Mykonos, where each suite features its own infinity-edge pool.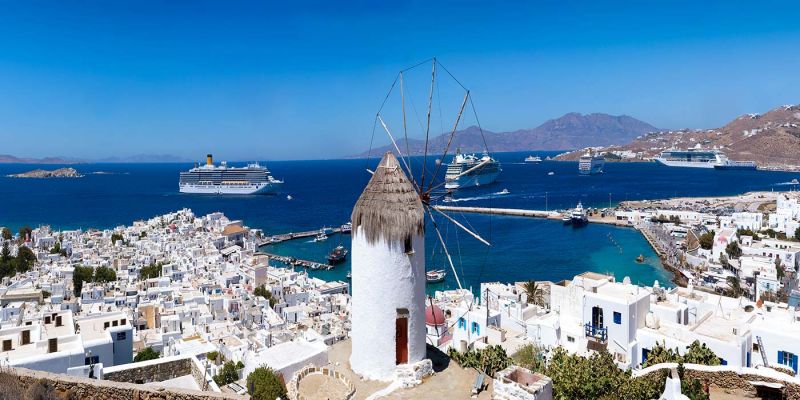 The Enchanting Ionian Islands
The Ionian Islands, also known as the "Eptanissia" or "seven islands," stand out for their lush green landscapes, unique local culture, and stunning architecture. Each island in this group offers something different, making them some of the best islands in Greece for those seeking variety.

Discovering Corfu
Corfu, the most well-known of the Ionian Islands, is a must-visit for history buffs. The island's Old Town, protected by UNESCO, is a maze of narrow streets lined with Venetian houses and Byzantine churches.
When in Corfu, a walk through the streets of Old Town is a must. You should also visit the island's numerous museums and the ancient fortress that offers panoramic views of the city and the sea. If you're a nature enthusiast, consider exploring the island's interior, dotted with charming villages, olive groves, and vineyards.
In Corfu, you can choose from luxury seaside resorts like the Grecotel Corfu Imperial or historic estates such as the Pelecas Country Club.
Exploring Zakynthos
Zakynthos, another Ionian island, is famous for its Shipwreck Beach, accessible only by sea, and its iconic blue caves that you can swim through. The island offers a combination of natural beauty and lively nightlife, making it one of the best Greek islands for both relaxation and entertainment.
While visiting Zakynthos, don't miss out on a boat tour to the Shipwreck Beach and the Blue Caves. If you're a nature lover, consider visiting the Zakynthos National Marine Park, home to the endangered Caretta Caretta sea turtles.
When it comes to accommodation, Porto Zante Villas & Spa is a luxury oasis on the busy eastern coast of the island. In the quieter north, near the blue caves, Nobelos is a four-suite, family-run hotel known for its organic restaurant.
The Serene Saronic Gulf Islands
The Saronic Gulf Islands, the closest island group to Athens, are less known to foreign tourists, making them perfect for those seeking a more authentic Greek island experience. The main islands in this group are Hydra, Spetses, Poros, Aegina, and Agistri.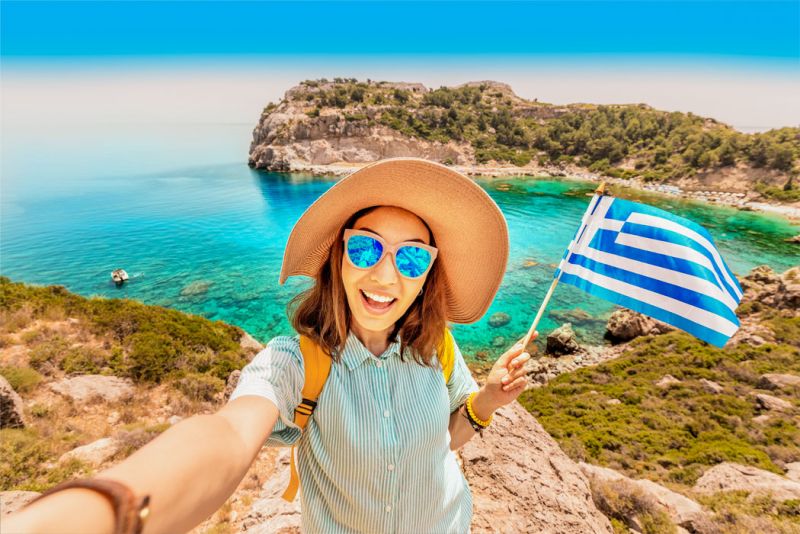 Visiting Hydra
Hydra, often referred to as the "Nantucket of Greece," is a small, car-free island that offers a charming and traditional Greek island experience. The island's cobblestone streets, lined with cafes and boutiques, are perfect for leisurely strolls.
When you're in Hydra, take time to explore its picturesque harbor, filled with yachts and fishing boats. You should also visit the island's numerous churches and monasteries, and if you're up for it, take a hike up to the Prophet Elias Monastery for a panoramic view of the island.
In terms of accommodation, Hydra offers several charming options. The Cotommatae is a popular choice, offering an authentic stay in a traditional captain's home.
The Dodecanese Islands, a group of 12 main islands in the southeastern Aegean Sea, are known for their medieval castles, Byzantine churches, and stunning beaches. Rhodes and Kos are the largest and most popular islands in this group.

Exploring Rhodes
Rhodes, the largest of the Dodecanese Islands, is a paradise for history lovers. The island's Old Town, a UNESCO World Heritage site, is one of the best-preserved medieval towns in Europe.
In Rhodes, you can explore the ancient city of Kamiros, visit the Palace of the Grand Master, or take a stroll along the Street of the Knights. You should also visit Lindos, a charming village home to an ancient Greek acropolis.
To enjoy a luxurious stay in Rhodes, consider booking a room at Melenos Lindos, a 17th-century building offering stunning sea views.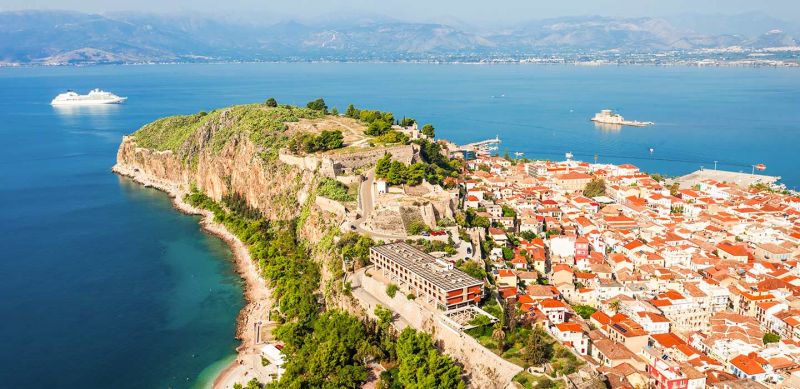 In the end, whether you're a history buff, a nature lover, a foodie, or a beach enthusiast, the islands in Greece have something for everyone. Each island offers a unique experience, ensuring that no two visits are the same. So, pack your bags and get ready to explore the best Greek islands, one island at a time.

Remember, the key to enjoying your Greek island adventure is to plan ahead, pack light, and always be ready to immerse yourself in the local culture. So, get ready to say "Yassou" to an unforgettable journey across the islands in Greece.
You can book your trip NOW from our great collection of Greece Tours!