Sure, you might be pedaling on two wheels in your hometown, but it cannot be compared to exploring a whole new city, a whole new culture on a pair of wheels. Cycling has become the new trend. And travel biking is on the top of the list.

Sightseeing by cycle is the ideal way to get to know a city and discover its local culture and bond with its people. It's also a hundred times more fun than sitting in traffic or in the underground metro. You can simply explore the city at your own pace and hit the brakes and chat up with some locals.

Next time you are about to travel, take a moment to figure out the city's bike network. To get you started, we've rounded up a list of the 7 best cities to explore on a bike. It's time to pedal around like a local in the world's best biking cities!
1. Copenhagen, Denmark

Copenhagen is the first bike city in the world. If there is one city that was traveling by bike is as natural as anything else, it will definitely be Copenhagen. It's known as Cycle City. It is always ranking among the top bike-friendly cities. Copenhagen is actually the only city in the world with a biking highway! How cool is that?

Copenhagen is the capital of Denmark and one of the most beautiful cities in Europe. If you ever there, you need to grab your wheels and start exploring this beautiful city. Visit the century-old amusement park Tivoli Garden, admire picturesque grounds and thrilling rollercoasters, and ride through Nyhavn, the wonderfully 17-century waterfront.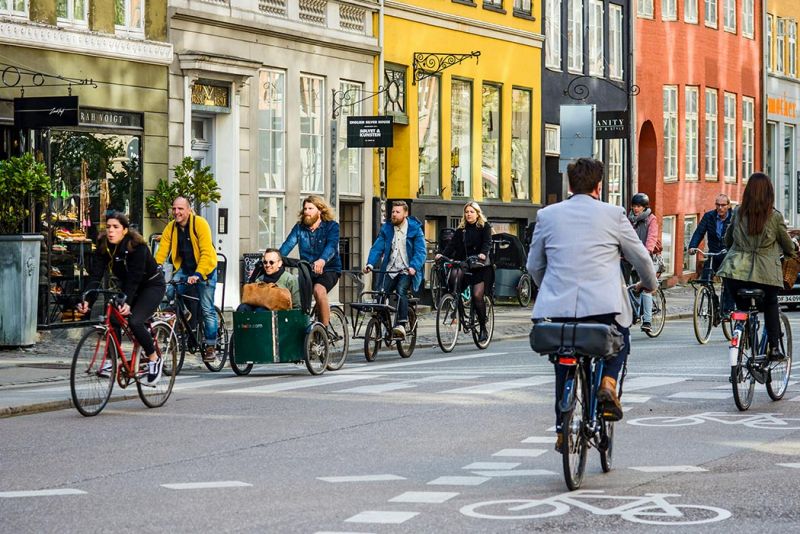 2. Amsterdam, Netherlands

Like Copenhagen, Amsterdam is a bike lovers' paradise. There are actually over 800,000 bikes in the city, which is more than the number of people living there! Can you imagine? In Amsterdam, biking is a way of life. There are actually four times bikes in the streets than cars.

You can easily find rental bikes scattered throughout Amsterdam. When you grab a bike from the city center and follow the Amstel River south on the Ouderker aan de Amstel trail, you will see the landscape and windmills that inspired Rembrandt's paintings. There are also biking tours that take you to explore the city and discover its hidden gems by bike.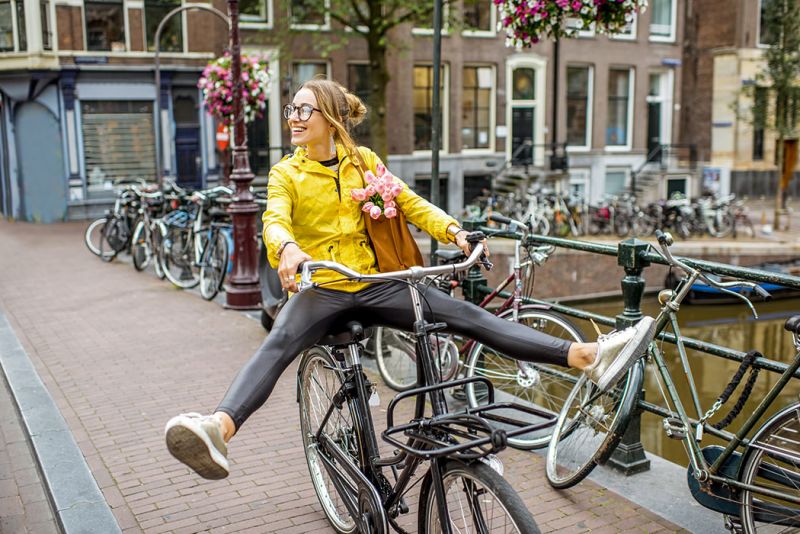 3. Paris, France

The capital of romance is one of the best cities to explore on a bike. Just imagine, you and your beloved riding bikes on the streets of the city of love. Passing by an abundance of quaint streets, famous landmarks, and scenic parks. What can be more romantic than this?

There are about 1,800 stations found 300 meters apart scattered throughout the city where you can easily rent a pair of pedals.

The classic tourist route is along the Seine from the Eiffel Tower to Notre Dame; it's about 14.5 kilometers and it includes passing by the Louvre and Saint-Germain-des- Prés.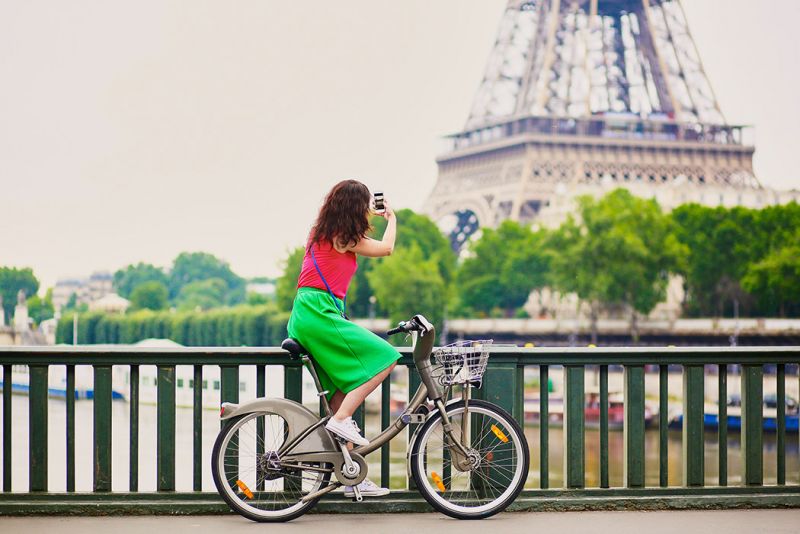 4. Montreal, Canada

Montreal is one of the top North American cycling cities. It has lanes dedicated to bikes. The city boasts 435 miles of bike paths and plenty of bikes available for rentals. There are 5,000 bikes available at 400 stations dotted throughout the city. So, it makes exploring Montreal on a bike that much easy.

Bike up your way to the Mont-Royal and enjoy the stunning views from the Belvedere observatory and if you are an early bird, you will have the chance to catch and admire a gorgeous sunrise.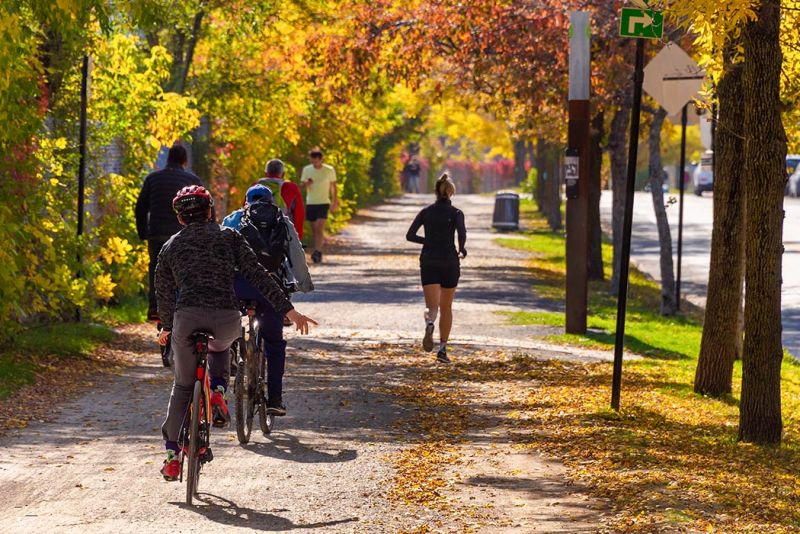 5. Barcelona, Spain

Barcelona does not only have the right lanes for biking, no, it also has the perfect weather for it. Locals and tourists both take advantage of Barcelona's beautiful weather and prefer to explore and travel through the city on bikes.

There are 125 miles worth of cycling trails across Barcelona's old quarter which ticks off the sightseeing spots of the city.

If you enjoy panoramic views, you can take the Montjuic route up the Olympic Mountain and admire the breathtaking views along the way.

Like all the other bike-friendly cities we have mentioned, Barcelona has bikes for rentals. They are available for as much time as you like. You can rent it hourly, daily, or even weekly.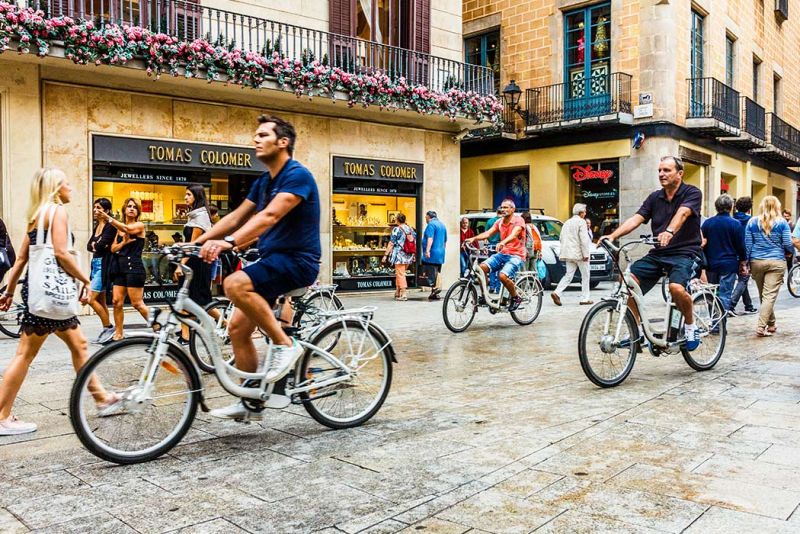 6. Berlin, Germany

Berlin is another European city that biking is a way of life. It has about 900 kilometers of bike paths with many of them on the main streets.

You can rent a bike for a few euros for a day and hit the pavement. Bikes are available at most hostels, hotels, and guesthouses. Grab your wheels and start exploring this wonderful city. Ride up the Berlin Mauerweg and admire the scenic route; it will take you along the historic Berlin Wall. You can also take paths within Treptower Park and pass by war memorials, boats, and restaurants.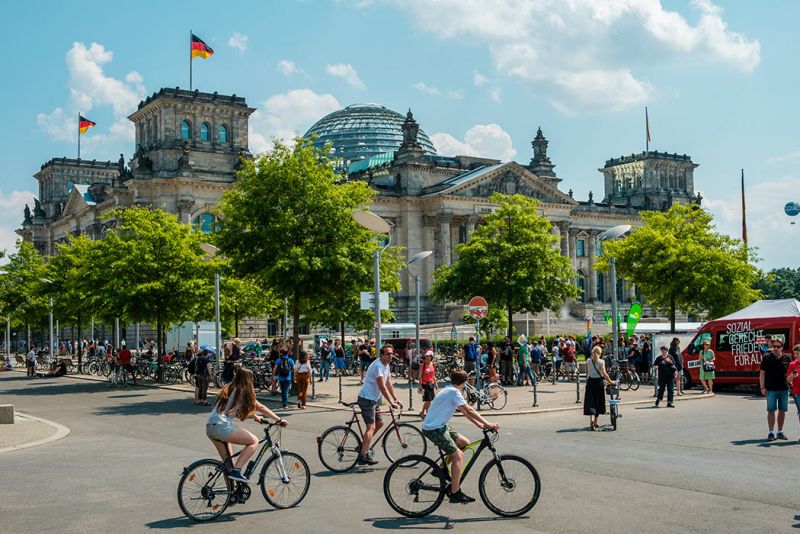 7. Portland, United States

Portland is actually among the few cities in the United States that are bike-friendly and eco-friendly. Portland boasts 483 kilometers of bikeways with specific bike traffic signals. It actually has the highest number of those who commute to work on a bike in all of the United States.

The city has a bike-share rental program that is open for everyone which makes renting there very easy.

There are plenty of themed bike tours across the city. And if you are feeling adventurous, take on the Short, Steep, & Sweet, a 15-mile hilly climb that winds through the city's West Hills neighborhood, you will enjoy breathtaking views of the Tualatin Valley.