One thing to be sure about is that you will never go hungry in Morocco. Besides the souks, the vibrant cities, and the splendid deserts of Morocco, the Moroccan cuisine is one of the reasons to visit the beautiful country.
The traditional Moroccan cuisine is inspired by a mixture of cultures, the Berbers', the Arabs, and the techniques brought by colonists from Spain, and France.
Give yourself a treat and know about the top 8 restaurants in Morocco.

1- La Cantine Des Gazelles, Marrakech
If you're looking for deliciousness and affordability, then La Cantine Des Gazelles is the perfect choice. The restaurant is located five minutes from Jemaa el Fna, in the heart of Marrakesh. The flavorful tagines, pastillas, and grilled meat skewers are the most popular local dishes there. However, if you don't crave local food, there are many other choices like an omlette or a pizza.
The vibes of the place gives it extra credit. You can choose to eat side by side with the locals while enjoying the interior pink decor, or to sit at the open air street-side tables in the middle of medina life.
Address: J2G7+9H4, Marrakech 40000, Morocco
Phone: +212 624-061452
Opening Hours: From midday to 10 p.m., everyday except Monday.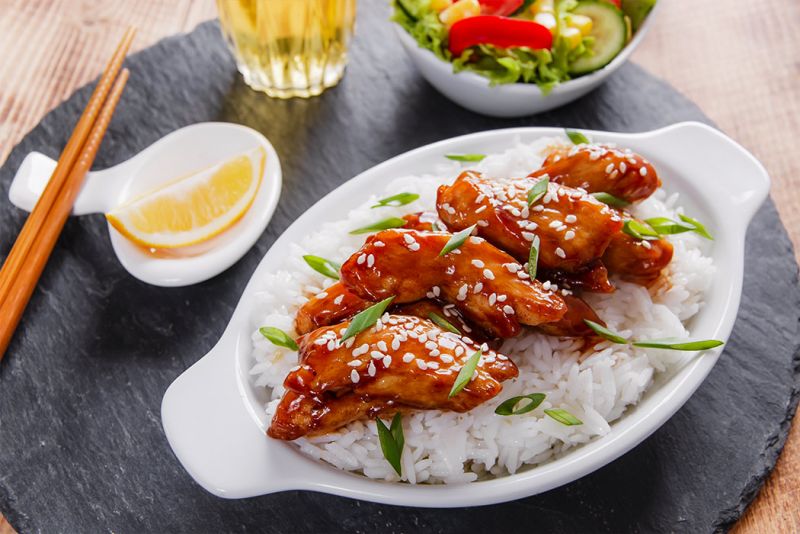 2- Dar Zellij, Marrakesh
Located in Marrakesh, Dar Zellij is one of the best Moroccan restaurants for a romantic dinner. Featuring amazing Moroccan decor, original painted ceilings and magnificent zellij mosaics, Dar Zellij is housed in a restored 17th century riad.
The restaurant serves traditional Moroccan dishes like pastillas, tagines, and traditional harira soup. If you want to celebrate an occasion, you can order cocktails.
Address: 1, Kaa ssour، Marrakech 40000, Morocco
Phone Number: +212 5243-82627
Opening Hours: Everyday from midday to midnight.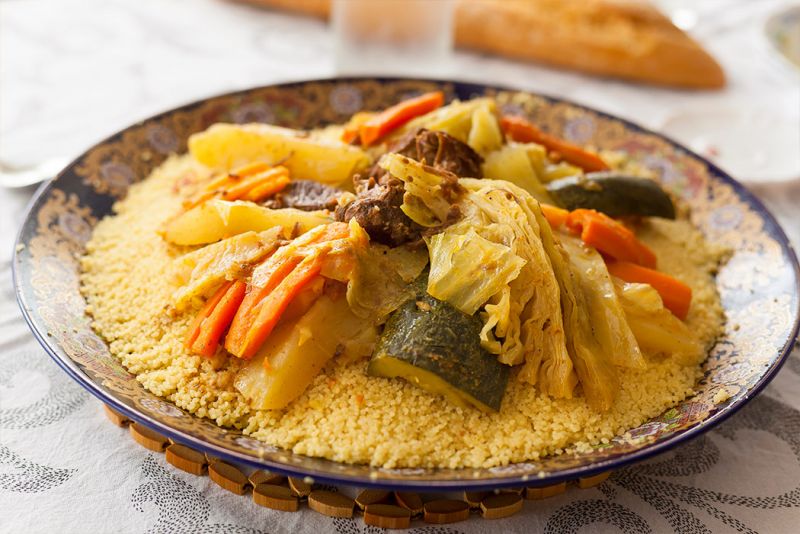 3- Le Dhow, Rabat
For a good meal with a lovely view, get on Le Dhow, a vintage boat moored on the Bou Regreg River in Rabat. You can choose to sit outdoors, or indoors. Sitting in an Indonesian-style salon and at the VIP's Captain's Table is also available.
DJs, live music or karaoke may serve you good vibes while enjoying the meal, depending on the time of the day.
The menu includes French dishes, besides a selection of light bites. The most popular options are pizza, foie gras, salmon, oysters, pasta, salads and fish. The restaurant also serves a wide selection of desserts and drinks.
Address: Avenue AL Marsa Quai de Bouregreg, Rabat 10000 Morocco
Phone: +212 5377-02302
Opening Hours: Everyday from 12 a.m. to 2 a.m., except for saturday and sunday from 11 a.m. to 2 a.m.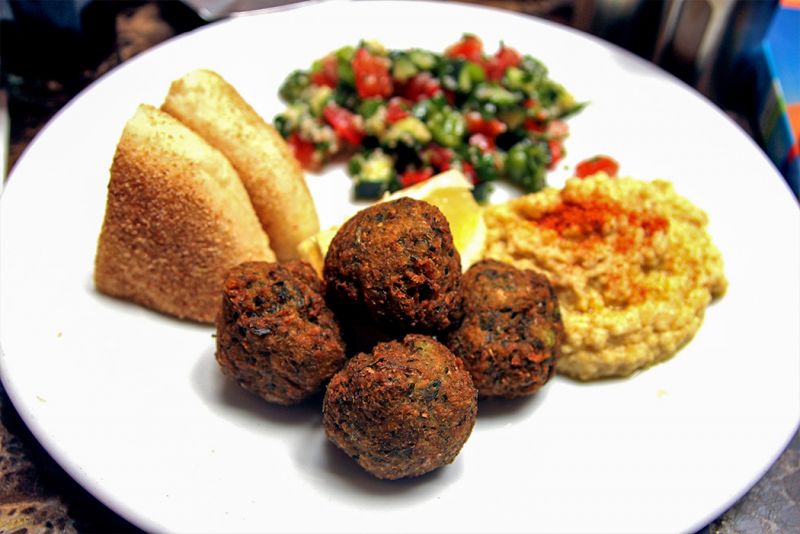 4- La Table by Madada, Essaouira

Located in Essaouira, a town famous for its fish and seafood, La Table Restaurant stands out. The restaurant features traditional Moroccan and modern European decor, alongside tables set beneath brick-lined alcoves and archways.
The menu includes various seafood dishes, sample lemongrass shrimp, spider crab gratin, and unforgettable fish tagines.
The service is pretty friendly, and prices offer great value.
Address: 7 Rue Youssef El Fassi, Essaouira, Morocco
Phone: +212 5244-72106
Opening Hours: Everyday except Tuesday from 7 p.m. to 10:30 p.m.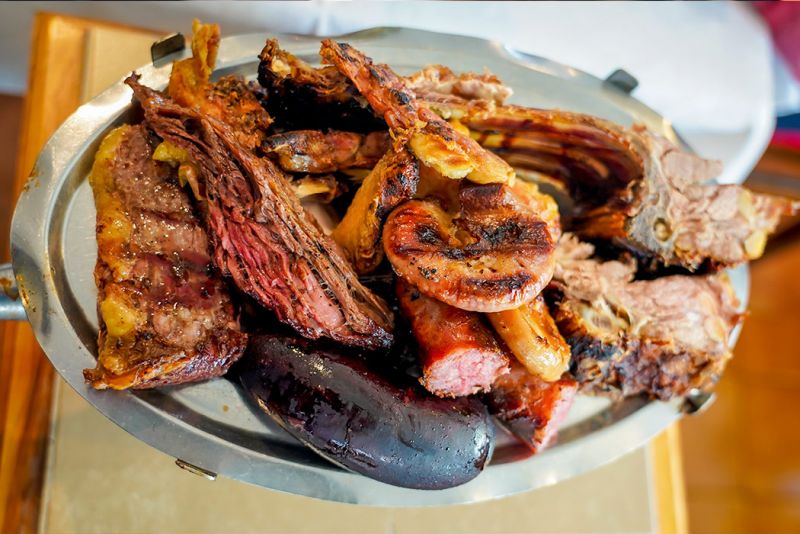 5- La Grande Table Marocaine, Marrakech

Set within the decadent Royal Mansour Hotel in the red city of Marrakech, La Grande Table Marocaine offers amazing surroundings, tasteful dishes, and excellent service. The restaurant is one of the finest restaurants in Morocco for high class visitors.
The menu offers a great deal of dishes, mechoui-style (grilled) veal and lamb, rabbit, pigeon, various couscous dishes, seafood pastilla, a seafood platter, as well as a wide selection of salads.
As for the tagines, they serve chicken and lemon, seafood, sea bass, king prawn and lamb. You can also give yourself a special treat and try a beef tangia, a local Marrakshi speciality.
Address: La Grande Table Marocaine, Royal Mansour, Rue Abou Abbas el Sebti، Marrakesh 40000.
Phone: +212 5298 08080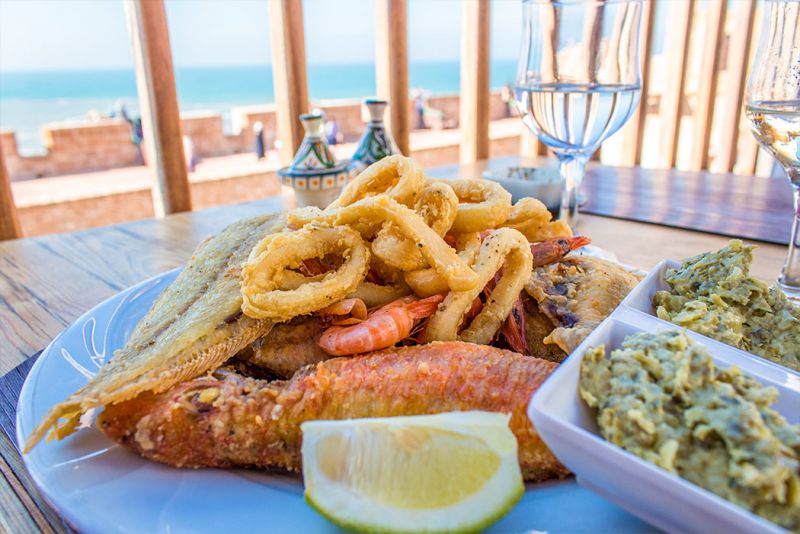 6- Triskala Café, Essaouira

If you're a vegetarian, head to Triskala Café. The eatery is budget friendly and serves local food with an emphasis on vegetarian dishes.
They also have a menu that changes daily that offers pescatarian, vegan, and gluten-free diets.
The cafe is well known for its Falafel and beetroot hummus, vegetable tagines and soups and freshly-baked bread, as well as a good selection of fruit-filled desserts.
The place is plastic free so it does not serve alcohol, but they offer great juices and tea.
Address: 58 Rue Touahen, Essaouira, Morocco
Phone: +212 80-8548268
Opening Hours: Everyday from 12:30 p.m. to 11 p.m.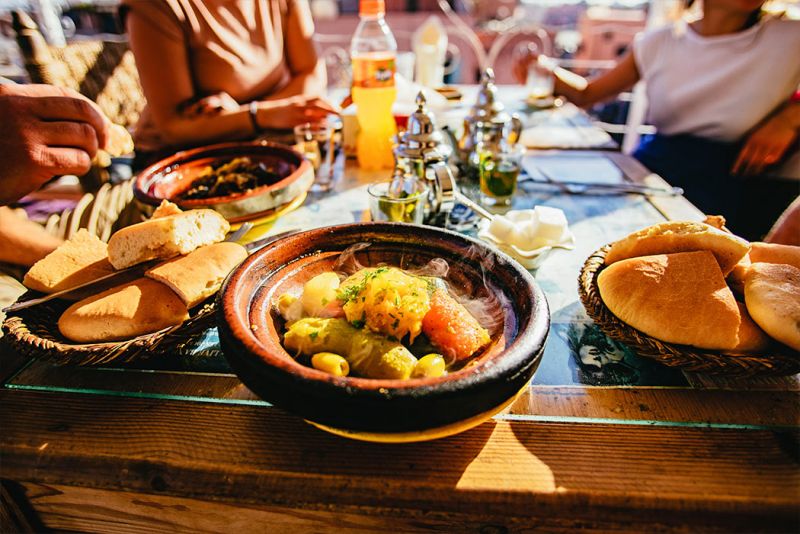 7- Matsuri, Rabat

Craving Japanese cuisine? Rabat's Matsuri is an excellent place to give a try. The restaurant offers great quality fresh fish and seafood caught around Morocco's long coasts.
Sushi and sashimi are the top choices there, besides other delights like tempura, miso soup, steak, grilled fish, teriyaki and more.
The restaurant has branches in Casablanca and Marrakech as well.
Address: Matsuri, Avenue Mohamed VI – Route des Zaers, Rabat
Phone: +212 5377 57572
Opening Hours: Everyday from 12 p.m. to 11 p.m.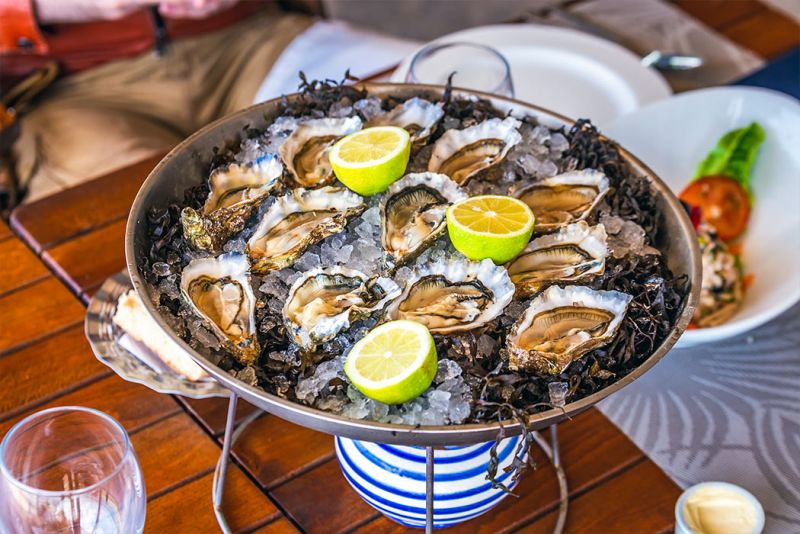 8- Rick's Café, Casablanca

Fan of the iconic 1942 movie Casablanca? Then Rick's Café is a must-visit. Set in a historic courtyard mansion in Casablanca, the cafe is a replica of the nightclub featured in the movie.
Housed in a traditional riad, the design features balconies, leafy plants, beautiful woodwork and tiling, graceful arches, a roulette table, and a sculpted bar.
The restaurant serves local Moroccan food, seafood dishes, and also international dishes. Enjoy the tagines, grilled steaks, burgers, the signature goat's cheese salad and more.
Note that you need to make a reservation for it's an incredibly popular spot among tourists.
Address: Place du jardin public, 248 Bd Sour Jdid, Casablanca 20250, Morocco
Phone: +212 5222-74207
Opening Hours: Everyday from 6:30 a.m. to 1 a.m.

Check out now our Tours of Morocco!