Want to embrace a foodie's paradise? How about some exotic herbs and spices to satisfy your hunger pangs? "India" is known for its rich culinary heritage, which has developed over centuries, so get ready to go on a delicious journey through the land of spices and flavors. Indian cuisine is a unique mixture of mouth-watering aromatic dishes reflecting the colorful and vibrant roots and heart of the locals. With the busy clattering pans and steaming hot pots coming straight from a typical Indian kitchen, making buttery naan bread and fiery curries, here are ten well-known Indian dishes that you must try.

1. The Fragrant Rice Dish: Biryani
A popular staple in India today, the fiery-fragrant rice dish known as Biryani holds its origins in the Mughal era. A rich medley of flavors and aromas is produced by cooking rice with a variety of piquant spices, meat, or vegetables. From Kolkata to Hyderabad, there are numerous varieties of Biryani, each with its own flavor presented with a seasoning of grated lemon zest, minced garlic, and minced parsley. Whenever in doubt, just eat biryani! Take a bite of this mouthwatering dish, and let its peppery flavor envelop you to a luscious culinary experience you won't ever forget, regardless of the type of Biryani you choose.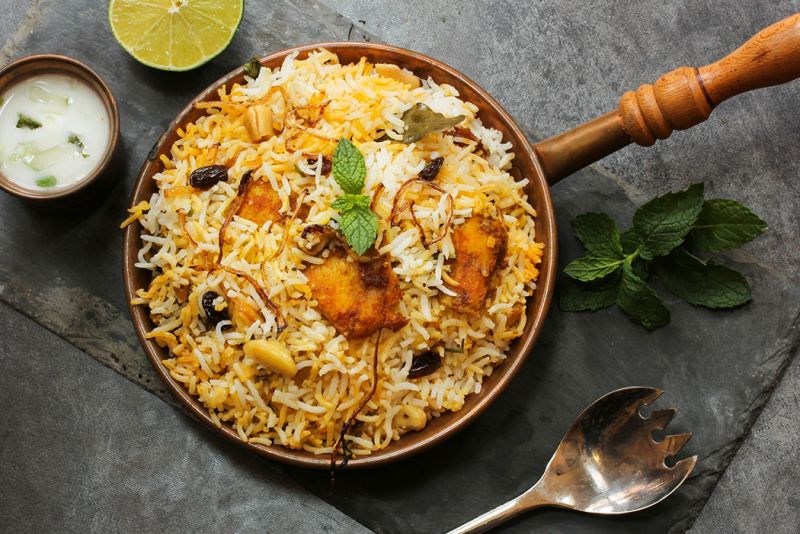 2. The Hearty Punjabi Dish: Chole Bhature

Chole Bhature will add some flavor to your life if you're craving something new. Tempt your taste buds with this reviving, delicious blend of spicy and sweet flavors. The hearty Punjabi dish Chole Bhature, which combines spicily spiced chickpeas (chole) and deep-fried bread (bhature), will ensure that your meals are never again boring. The bhature is made from fermented dough and fried to a golden brown color while the chickpeas are prepared in a tangy tomato-based sauce. This dish is a favorite street food in northern India because it is the ideal balance of spiciness and sweetness. You can titillate your taste buds and fill your stomach with a delicious meal with Chole Bhature. Let this delicious combination satisfy your cravings!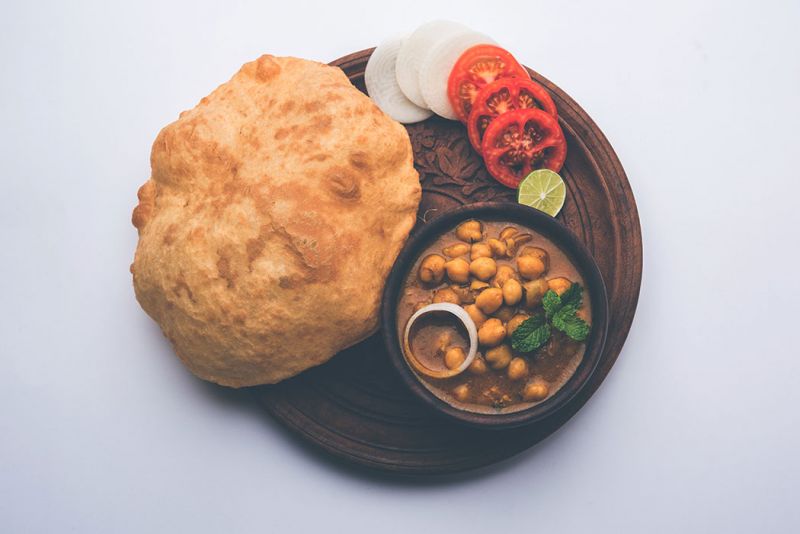 3. The Kashmiri Delight: Rogan Josh

The distinctive flavor profile is guaranteed to satisfy your taste buds and keep you coming back for more if you've never had Rogan Josh before. A staple of Kashmiri cuisine, Rogan Josh is renowned for its sumptuous, enticing flavors. The recipe calls for tender lamb or mutton that has been cooked in a fiery red sauce made from Kashmiri chilies and a concoction of flavorful spices. The typical add-ons are fluffy naan bread or hot, steaming rice. Rogan Josh is a good option if you want to liven up your dinner routine. Your taste buds will undoubtedly appreciate it.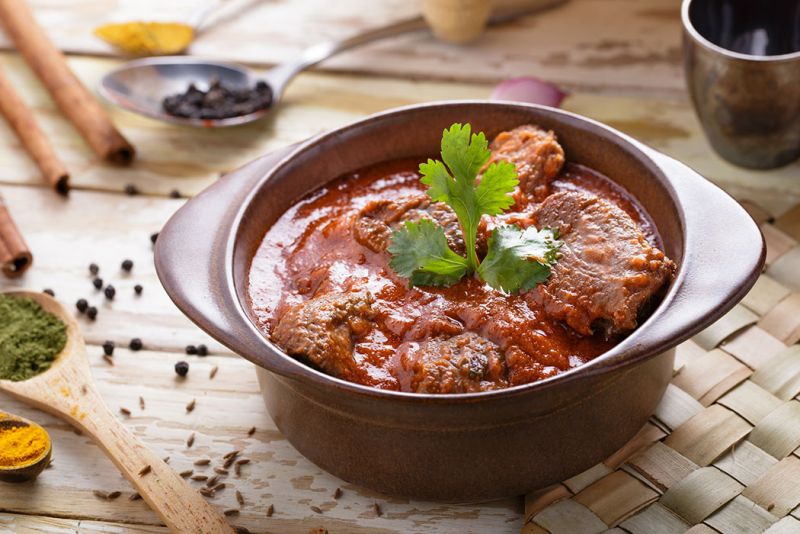 4. The Crispy South Indian Delight: Masala Dosa

A popular breakfast option across the nation is Masala Dosa, a well-known South Indian dish. This dish is a crispy crepe-like pancake made from fermented rice and lentil batter that is stuffed with a delectable potato filling and served with tangy coconut chutney and hot sambar. The dish will arouse your taste because it is flavorful, light, and healthy. With its delightful aroma and tantalizing flavor, Masala Dosa is more than just a meal: it's an experience. Your cravings will travel as well as be satisfied by this savory treat. So, let this crispy and crumbly dish take you through a zesty and savory experience.
5. The Beloved Street Food: Pav Bhaji
Pav Bhaji is a buttery street food that is well-known throughout India. Served with tender buns (pav) that have been lightly toasted with butter, it is a delicious combination of mashed vegetables that have been cooked in a fiery sauce. Frequently eaten as a quick snack or light meal, this dish is a favorite among vegetarians. This dish can be easily modified to suit your preferences if you enjoy experimenting with flavors. You can customize Pav Bhaji to your liking, whether you prefer it hot, garlicky, or slightly sweet. Try Pav Bhaji with a dollop of butter and some cheese if you're looking for a more decadent treat.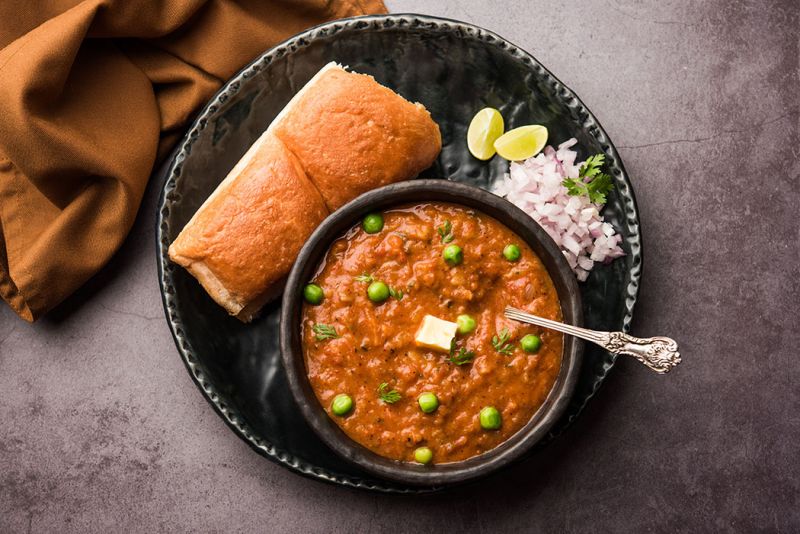 6. The Crispy Snack: Samosa
A warm, crunchy Samosa is the best feeling in the world to bite into. It's a delicious treat that will satisfy any craving thanks to the flavorful filling and crunchy pastry. The potato filling inside a Samosa is spicy, forming it into a crispy, triangular pastry. In India, it is a well-liked regular hot sizzling evening snack stuffed with a flavorful experience of crispy layers and filling dipped in mint or tomato sauce. Grab some "samosa fun" to catch up with your pals over some delectable Indian food, and enjoy a flavor-packed snack that's best for sharing with friends.
7. The Creamy Delight: Dal Makhani
If you like Indian food, you'll adore the heavenly bites of Dal makhani, a classic creamy and comforting dish made with lentils, butter, and cream. As an appetizing delicacy, it is typically served with roti or naan. Dal makhani is cooked gently, resulting in a thick and creamy texture. The majority of the components are black lentils, kidney beans, butter, cream, and a variety of spices. The lentils are cooked at a low temperature for several hours to absorb the flavor of the spices and butter. An epicurean and rich creamy lentil dish with herbaceous flavors and smooth texture is served.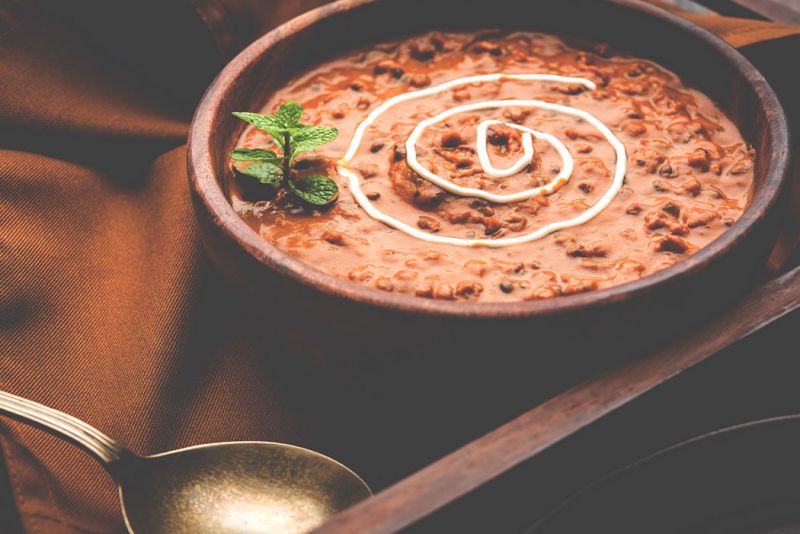 8. The King of Indian Curries: Butter Chicken

Butter Chicken would undoubtedly win the prize if there were ever a competition to determine the most popular Indian dish. The tender pieces that have been marinated and cooked in a tandoor oven are used to make the succulent chicken base which is then mixed with a creamy, tomato-based curry. The dish is typically served with piping hot rice or butter naan bread and strikes the ideal balance of sweet and spicy flavors. The flavor of Butter Chicken will make your taste buds dance with joy, just like the food itself. Butter Chicken is a perennial favorite, whether you're hosting a traditional Indian feast or simply want to spice up your supper. So grab your plate and get prepared to devour this mouthwatering meal.
9. The Mumbai Burger: Vada Pav
Vada Pav is widely regarded as the "soul of Mumbai's street food," and for a good reason. If you're hungry or just want to try some local food, the traditional Vada Pav, also known as the Mumbai burger, is a great option. It accompanies chutneys and seared green chilies and comprises a southern-style potato (vada) sandwiched between a delicate bun (pav). This street food is a straightforward yet satisfying treat. Because of its perfect blend of flavors and textures, this snack is a must-try for anyone visiting Mumbai.
10. The Sweet Treat: Gulab Jamun
Remember that life is short and so make sure you don't miss out on the gulab jamun. Take advantage of this delicious dessert to satisfy your sweet tooth and add a little sweetness to each day. Being the perfect sweet to finish off the meal, Gulab Jamun is one of the most well-liked Indian desserts. These tiny, round dumplings with a hint of rosewater and cardamom flavor are made from milk solids and soaked in sweet syrup. They are an irresistible treat with a smooth and rich texture to just melt the sugar drizzle in your mouth. So, enjoy a few little bites of this ultimate deliciousness without any guilt!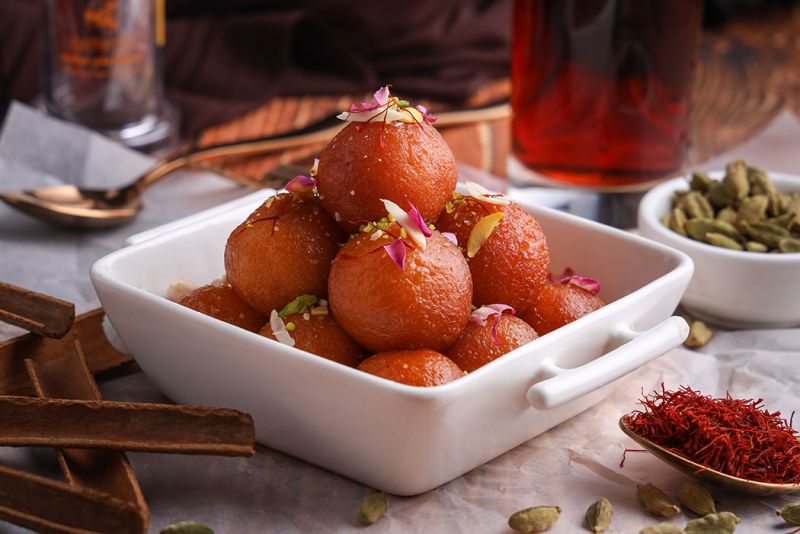 End Note
Indian cuisine is a treasure trove of flavors and spices that has won the hearts of food lovers all over the world. The variety of Indian food, from buttery curries to crunchy snacks and sweet treats, is truly amazing. Samosas, a flaky pastry filled with potatoes, peas, and spices, will tempt your palate. Dal makhani, on the other hand, a lentil dish prepared with butter and cream, will satisfy your craving for creamy richness. So go ahead and taste your way through the world of Indian cuisine. Bon appétit!