St. Sophia, Istanbul
14 Days/13 Nights
Discover Turkey's most impressive Sightseeing. Visit Istanbul, Gallipoli Battlefields, Troy, Acropolis of Pergamum, Ephesus, Antalya, Cappadocia and the magnificent white calcium terraces known as Travertines in Pamukkale.
Make an Enquiry

Tour Highlights

Trip type : Group Tour

Trip runs : On Thursday
Day 1 Thursday: Arrival Istanbul
Your English-speaking driver will meet and assist you at Istanbul Airport and then escort you to your hotel. Check in to your room and enjoy the afternoon free to explore Istanbul. Overnight in Istanbul.
Day 2 Friday: Istanbul Old City
After breakfast at your hotel, you will be picked up to enjoy the exotic city that spans both Europe and Asia. Visit the Blue Mosque, the Hagia Sofia, Topkapi Palace and the Hippodrome.Then back to your hotel and overnight in Istanbul.
Meals: Breakfast
Day 3 Saturday: Gallipoli Battlefields
After breakfast at your hotel, you will be picked up to visit the WWI battlefields of Gallipoli including Lone Pine and Chunuk Bair Memorials, Anzac Cove, The Nek, Johnston's Jolly, and the original trenches and tunnels. Check into your hotel and have dinner and overnight in Canakkale.
Meals: Breakfast, Dinner
Day 4 Sunday: Troy, Acropolis of Pergamum
After breakfast at your hotel, you will be picked up to visit the ruins of Troy, followed by a tour of the magnificent acropolis of Pergamum. Its impressive temples and library made it a renowned cultural and political centre in its time. Check into your hotel, dinner and overnight in Kusadasi.
Meals: Breakfast, Dinner
Day 5 Monday: Ephesus, Kusadasi
After breakfast at your hotel, you will be picked up for a guided tour of Ephesus and the Temple of Artemis. These fantastic ruins are certain to impress as one of the best-preserved ancient cities in the region. Continue on to the house of the Virgin Mary, where she is thought to have lived out her life after Jesus Christ's death. End the day with a demonstration of the carpet weaving techniques of Turkey. Return to your hotel for dinner and overnight in kusadasi.
Meals: Breakfast, Dinner
Day 6 Tuesday: Pamukkale, Hierapolis
After breakfast at your hotel, you will be picked up to enjoy a display of locally handcrafted leather goods before heading to the the magnificent white calcium terraces, known as the Travertines, in Pamukkale. You will also visit the ancient city of Hierapolis.Take a dip, amongst ancient columns in the hot springs that were used in Roman times for their therapeutic powers. Check in your hotel, dinner and overnight in Pamukkale.
Meals: Breakfast, Dinner
Day 7 Wednesday: Perge, Antalya
After breakfast at your hotel, you will be picked up to depart for Antalya, stopping to visit Perge on the way. Check in your hotel, dinner and overnight in Antalya.
Meals: Breakfast, Dinner
Day 8 Thursday: Free Day in Antalya
You will have the day free to explore Antalya. Optional tours will be offered to Phaselis, an ancient, coastal city or a lazy yacht cruise along the coast of the Mediterranean. Dinner and overnight in Antalya.
Meals: Breakfast, Dinner
Day 9 Friday: Antalya, Aspendos, Konya
After breakfast at your hotel, depart to Konya. On the way you will visit the famous theatre in Aspendos, Mevlana Mausoleum and Karatay Koran School. Check into your hotel and have dinner and overnight in Konya.
Meals: Breakfast, Dinner
Day 10 Saturday : Konya, Cappadocia
After breakfast at your hotel in early morning, depart to Cappadocia. On the way you will visit a 13th century Agzikarahan caravanserai, the land of Fairy Chimneys and the famous underground city of Saratli. You will have a chance to taste Cappadocian wine in a cave winery. Dinner will be at a local restaurant and overnight in Cappadocia.
Optional: Whirling Dervishes performance.
Meals: Breakfast, Dinner
Day 11 Sunday : Cappadocia
Optional: Balloon Tour. Floating through the volcanic valleys, fairy chimneys and caves during the sunrise. After breakfast, visit Goreme, Avanos, Pasabagi, Red Valley, and enjoy the regional pottery workshop. Dinner and overnight in Cappadocia.
Meals: Breakfast, Dinner
Day 12 Monday : Cappadocia, Ankara
Depart in the early morning for Ankara by way of Agzikarahan Caravanserai. You will visit Anitkabir, the mausoleum of the Mustafa Kemal Ataturk, the founder of modern Turkey, and the Anatolian Civilisations Museum. Check into your hotel and overnight in Ankara.
Meals: Breakfast, Dinner
Day 13 Tuesday : Istanbul
Drive back to Istanbul. In the afternoon, you will be free to explore the city. Enjoy a farewell dinner in a local restaurant and overnight in Istanbul.
Optional: half day Bosphorus cruise, including last minute shopping in the Spice Market.
Meals: Breakfast, Dinner
Day 14 Wednesday :Final Departure
After breakfast, transfer to Istanbul Ataturk Airport for final departure.
Meals: Breakfast
What's Included:
Meet and greet service by our English speaking driver at airport
All transfers by an air-conditioned coach
Accommodation for 3 nights in Istanbul including breakfast
Accommodation for 1 night in Canakkale based on half board
Accommodation for 2 nights in Kusadasi based on half board
Accommodation for 2 nights in Cappadocia based on half board
Accommodation for 1 night in Pamukkale based on half board
Accommodation for 2 nights in Antalya based on half board
Accommodation for 1 nights in Ankara based on half board
Accommodation for 1 nights in Konya based on half board
All sightseeing tours as mentioned above
Entrance fees to all sites as indicated on the itinerary
English-speaking tour guide during the tour
Meals as mentioned in the above itinerary
All service charges and taxes
What's Excluded:
International airfare
Turkey entry visa
Any optional tours
Personal spending
Tipping
Tailoring your trip

Call a specialist on
1-800-490-0512
This is a sample itinerary
and can be tailored by our passionate and dedicated Tour Consultants to suit your specific requirements and needs
Egypt Weather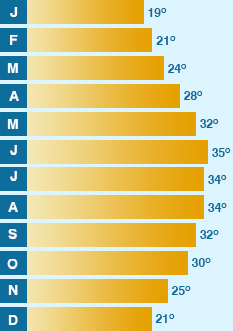 Average Temperature
Prices per Person
Accomodation Plan
Crowne Plaza Istanbul - Harbiye
Kolin Hotel Çanakkale
Charisma De Luxe Hotel
Spa Hotel Colossae Thermal Pamukkale
Crowne Plaza Antalya
Hilton Garden Inn Konya
Crowne Plaza Hotel Ankar
Lykia Lodge Kapadokya Hotel
DOUBLE
SINGLE

MAR.01 / MAR.31 - NOV.01 / NOV.30 2014

$

1395

$

2045

APR.01 / OCT.31 2014

$

1645

$

2395

DEC.01 / DEC.31 2014

$

1545

$

2245
Departure Dates 2014
MAR
APR
MAY
JUN
JUL
AUG
SEPT
OCT
NOV
DEC

06,13,
20,23

03,10,
17,24

01,08,
11,15,
18,22,
25,29

01,05,
12,19,
26

03,10,
17,24,
31

07,14,
21,28

04,07,
11,14,
18,21,
25,28

02,05,
09,16,
23,30

02,06,
20

18
Prices per Person
Accomodation Plan
Crowne Plaza Istanbul - Harbiye
Kolin Hotel Çanakkale
Charisma De Luxe Hotel
Spa Hotel Colossae Thermal Pamukkale
Crowne Plaza Antalya
Hilton Garden Inn Konya
Crowne Plaza Hotel Ankar
Lykia Lodge Kapadokya Hotel
DOUBLE
SINGLE

MAR.01 / MAR.31 - NOV.01 / NOV.30 2014

$

1395

$

2045

APR.01 / OCT.31 2014

$

1645

$

2395

DEC.01 / DEC.31 2014

$

1545

$

2245

Call a specialist on
1-800-490-0512