14 Days/13 Nights
Take this wonderful 14-day experience to enjoy the easter of Turkey. Visit the superb Roman mosaics at Zeugma in the archeological museum, the ancient city of Sanli Urfa and experience the sunrise at Mount Nemrut. You will also have the time to visit Ani, Van, Trabzon and Erzurum.
Make an Enquiry

Tour Highlights

Trip type : Group Tour

Trip runs : On Friday
Day 1 Friday: Arrival Istanbul
Your English-speaking driver will meet and assist you at Istanbul Airport and then escort you to your hotel. Check in to your room and enjoy the afternoon free to explore Istanbul. Overnight in Istanbul.
Day 2: Istanbul - Cappadocia
You will have the morning free to explore Istanbul before boarding your flight to Cappadocia. Check into your hotel and overnight in Cappadocia.
Meals: Breakfast
Day 3: Gaziantep
You will be picked up in the early morning to depart to Gaziantepe, where you will see the Roman mosaics of Zeugma in the archeological museum. Along the way you will visit Gumusler Monastery and Yesemek. Check into your hotel and overnight in Gaziantep.
Meals: Breakfast
Day 4: Sanli Urfa
After breakfast at your hotel, drive to the ancient city of Sanli Urfa, home of Abraham. On the way you will visit remains of the ancient Roman city of Zeugma by the River Euphrates. Check into your hotel and overnight in Sanliurfa (Urfa).
Meals: Breakfast
Day 5: Kahta
After breakfast at your hotel, you will be picked up to discover the 'City of Prophets' as we visit Abraham's Caves, the Pool of Sacred Carp, and the silk bazaar before visiting nearby Harran to see the incredible beehive houses. In the afternoon you will drive to Kahta with a brief stop at Ataturk Dam, third largest in the world. Check into your hotel and overnight in Kahta.
Meals: Breakfast
Day 6: Mt. Nemrut
After breakfast at your hotel, you will have an experience to remember as we visit Mt. Nemrut and the mountain top sanctuary of Antiochus at sunrise, before continuing to Mardin, overlooking the vast plains of Mesopotamia. Check into your hotel and overnight in Mardin.
Meals: Breakfast
Day 7: Mardin
Begin the day with a tour of Mardin and its beautifully decorated Arabic-style houses before continuing on toward Hasankeyf to visit the cliff-top Roman ruins of ancient Cephe and the old town of Midyat. Depart to Tatvan, a small village on the edge of Lake Van and watch the sunset over the lake. Check into your hotel and overnight Tatvan.
Meals: Breakfast
Day 8: Van
After breakfast at your hotel, you will be picked up to enjoy a beautiful lakeside drive to Van where you will take a ferry Akdamar Island and the 10th century holy cross church. Check into your hotel and Overnight Van.
Meals: Breakfast
Day 9: Dogubeyazit
After breakfast at your hotel, drive along the ancient Silk Road to Dogubeyazit, located at the foothill of Mt. Ararat, the highest mountain in Anatolia. Legend says that Noah's Ark came to rest here. You will also tour Ishak Pasa Palace and visit the remains of Eski Beyazit, an ancient Urartian City before continuing to Kars. Check into your hotel and overnight Kars.
Meals: Breakfast
Day 10: Kars
You will be picked up at early morning to depart to the medieval City of Ani, close to the Turkish-Armenian border. We also have a chance to visit the impressive Kars Castle, and surrounding ancient churches. Overnight in Kars.
Meals: Breakfast
Day 11: Erzurum
After breakfast at your hotel, drive southwest to the scenic heights of Erzurum. On the way you will visit a 12th century madrassa, where you will have the chance to talk to the imam and visit the ethnographic museum. Check into your hotel and overnight in Erzurum.
Meals: Breakfast
Day 12: Trabzon, Sumela Monastry
After breakfast at your hotel, you will enjoy a scenic drive towards the historic city of Trabzon via Karaca Cave before visiting the breathtaking Byzantine Monastery of Sumela. Check into your hotel and overnight in Trabzon.
Meals: Breakfast
Day 13: Istanbul
Tour the historic city of Trabzon, the capital of the Byzantine empire, before your flight back to Istanbul. Check into your hotel and overnight in Istanbul.
Meals: Breakfast
Day 14: Final Departure
After breakfast, transfer to Istanbul Ataturk Airport for final departure.
Meals: Breakfast
What's Included:
Meet and greet service by our English speaking driver at airport
All transfers by an air-conditioned coach
Accommodation for 2 nights in Istanbul including breakfast
Accommodation for 1 night in Cappadocia including breakfast
Accommodation for 1 night in Gaziantep including breakfast
Accommodation for 1 night in Sanliurfa including breakfast
Accommodation for 1 night in Kahta including breakfast
Accommodation for 1 night in Mardin including breakfast
Accommodation for 1 night in Tatvan including breakfast
Accommodation for 1 night in Van including breakfast
Accommodation for 2 nights in Kars including breakfast
Accommodation for 1 night in Erzurum including breakfast
Accommodation for 1 night in Trabzon including breakfast
All sightseeing tours as mentioned above
Entrance fees to all sites as indicated on the itinerary
English-speaking tour guide during the tour
Meals as mentioned in the above itinerary
All service charges and taxes
What's Excluded:
International airfare
Domestic flight tickets
Turkey entry visa
Any optional tours
Personal spending
Tipping
Tailoring your trip

Call a specialist on
1-800-490-0512
This is a sample itinerary
and can be tailored by our passionate and dedicated Tour Consultants to suit your specific requirements and needs
Egypt Weather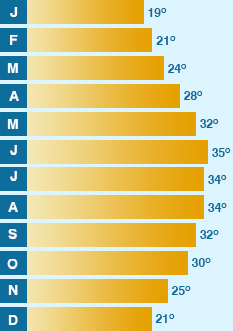 Average Temperature

Call a specialist on
1-800-490-0512