Your guide will meet you in the port to begin the tour. Drivng to Bergama, you will begin your tour at the Temple of Trajan and the Temple of Athena before continuing on to the famous library of Pergamon, called the Altar of Zeus. You will have the chance to explore this ancient acropolis and take in all of the ruins that it has on offer, among them the impressive theater, the Sanctuary of Demeter, and Agora. You will have the chance to see the ruins of one of the world's first medical centers, called the Asclepion, as well as the Red Basilica, which was built to worship the God's Egypt, Serapis, Isis and Harpocrates. Finally, you will visit the Church of St. John the Apostle, which was built by the Byzantines. Before heading back to Izmir Port and your ship, you will have time to shop for souvenirs. In total the tour will take approximately 5 hours.
What's Included:
Pick up services from Izmir Port and return
All transfers by a private air-conditioned vehicle
English speaking guide during the tour
Private driver during the tour
Entrance fees to all the mentioned sites
All taxes and service charge
What's Excluded:
Personal spendings
Tipping
Prices per Person
| | | | | |
| --- | --- | --- | --- | --- |
| | 2-3 Pax | 4-5 Pax | 6-10 Pax | 11+ Pax |
| Price Per Person | $ 230 | $ 145 | $ 140 | $ 130 |
About 07 Hours

Private Tour

Everyday
| | |
| --- | --- |
| | You'll be protected up to $50,000 |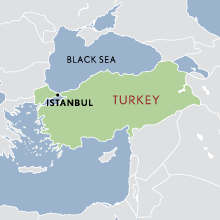 Best Time to Visit Turkey
Spring and autumn are the ideal times to visit Istanbul and the inland regions. The Aegean and Mediterranean coasts are typically like the Mediterranean climate with mild winters and hot summers. As you travel further east in Turkey the extremes in climate become more pronounced with very hot and dry summers reaching highs of 40°C and bitterly cold winters with heavy snowfall.
Flying to Turkey
Istanbul for comfort and quality – Turkish Airlines & Delta Airlines (Daily and Scheduled Airlines only)
Flying Time
09 hours 30 minutes direct from New York
10 hours direct from Washington
Time Difference
Standard Time = GMT+2 hours
Summer Time = GMT+3 hours
Visas
Required - obtainable an e-Visa online by your credit or debit card before you travel costs $20 or on arrival
Health Requirements
Make sure you are up-to-date on routine vaccines before every trip includes measles-mumps-rubella vaccine, diphtheria-tetanus-pertussis vaccine, varicella (chickenpox) vaccine, polio vaccine, and your yearly flu shot
Clothing
Most citizens of Turkey are Muslims, but Turkish society is secular and modern, so European dress styles prevail. For your holiday in Turkey, dress the same as you wear in your country