Cruise by ferry boat to
Samos Island
where you will explore
Vathi,
the capital of the island with its well-preserved aristocratic dwellings (arhontika) and neoclassical buildings. Continue onto
Karlovassia
, an attractive known for its splendid beaches and sites of natural beauty. You will able to see
Pythagorion
, the old town of Tigani with its beautiful picturesque town. Amongst the picturesque narrow roads of Pythagorio we will find a unique neoclassical buildings, the ruins of the ancient Samos, the Square and the hall of the town. You will visit
Marathokampos
, stretches along one of the largest bays of Samos.
Kokkari
, fishermen's village. The narrow roads, beaches, the taverns, cafes and shops all make it a charming village with a back drop of valleys and mountains. There are 2 beautiful pebbly beaches Tsamadou and Lemonakia. Also the northerly winds, which blow in this area, make it ideal for
windsurfing
.
What's Included:
Ferry boat ticket to samos with same day return ticket
service fees.
port check-in fee and tax are included in above rates.
What's Excluded:
Personal spending
Tipping
Prices per Person
| | | | | |
| --- | --- | --- | --- | --- |
| | 2-3 Pax | 4-5 Pax | 6-10 Pax | 11+ Pax |
01:20 Hours

Guarantee Departure

Everyday
| | |
| --- | --- |
| | You'll be protected up to $50,000 |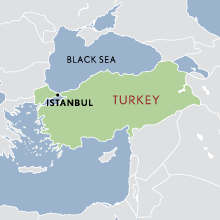 Best Time to Visit Turkey
Spring and autumn are the ideal times to visit Istanbul and the inland regions. The Aegean and Mediterranean coasts are typically like the Mediterranean climate with mild winters and hot summers. As you travel further east in Turkey the extremes in climate become more pronounced with very hot and dry summers reaching highs of 40°C and bitterly cold winters with heavy snowfall.
Flying to Turkey
Istanbul for comfort and quality – Turkish Airlines & Delta Airlines (Daily and Scheduled Airlines only)
Flying Time
09 hours 30 minutes direct from New York
10 hours direct from Washington
Time Difference
Standard Time = GMT+2 hours
Summer Time = GMT+3 hours
Visas
Required - obtainable an e-Visa online by your credit or debit card before you travel costs $20 or on arrival
Health Requirements
Make sure you are up-to-date on routine vaccines before every trip includes measles-mumps-rubella vaccine, diphtheria-tetanus-pertussis vaccine, varicella (chickenpox) vaccine, polio vaccine, and your yearly flu shot
Clothing
Most citizens of Turkey are Muslims, but Turkish society is secular and modern, so European dress styles prevail. For your holiday in Turkey, dress the same as you wear in your country