Enquire Now
About 03 Hours
Type Private Tour
Schedule Everyday
Leaving your hotel with your guide at 08:00, you will make the 45 minute drive south to
Ephesus
. There you will be able to visit the extensive ruins of the ancient city that make it the greatest outdoor museum in
Turkey
. See the Odeon, the Agora, the Pyrtaneion, as well as Domitian Square, Hercules Gate and Trajan's Fountain. All of these sites are evidence of the cities long history as part of the ancient Greek and then Roman worlds. The ruins go on with the Temple of Hadrian, which is one of the best preserved ancient structures in
Turkey
, along with the ruins of Celsius Library and the Grand Theater, which is one of the most impressive structures at
Ephesus
. The number of ruins goes on and on and you are sure to find many more interesting sights from Ephesus' ancient period, as well as evidence of its importance during the early days of Christianity. Both John and Paul of the Apostles recorded visits to this once great city. Finally, as the day comes to an end you will have a chance to visit a handicrafts center to shop of souvenirs before you guide returns you to your hotel. The tour will last approximately 5 hours.
NOTE:
The Terrace Houses section costs 15 USD per person.
Ancient city of Ephesus is an open air museum and includes 1.5 km. walking
What's Included:
Pick up services from Kusadasi hotel and return.
All transfers by a private air-conditioned vehicle.
English speaking guide during the tour.
Private driver during the tour.
Entrance fees to all the mentioned sites.
All taxes and service charge.
What's Excluded:
Personal spendings
Tipping
Prices per Person
| | | | | |
| --- | --- | --- | --- | --- |
| | 2-3 Pax | 4-5 Pax | 6-10 Pax | 11+ Pax |
| Price Per Person | $ 135 | $ 80 | $ 75 | $ 52 |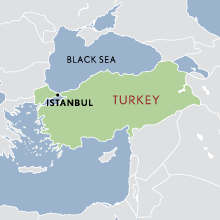 Best Time to Visit Turkey
Spring and autumn are the ideal times to visit Istanbul and the inland regions. The Aegean and Mediterranean coasts are typically like the Mediterranean climate with mild winters and hot summers. As you travel further east in Turkey the extremes in climate become more pronounced with very hot and dry summers reaching highs of 40°C and bitterly cold winters with heavy snowfall.
Flying to Turkey
Istanbul for comfort and quality – Turkish Airlines & Delta Airlines (Daily and Scheduled Airlines only)
Flying Time
09 hours 30 minutes direct from New York
10 hours direct from Washington
Time Difference
Standard Time = GMT+2 hours
Summer Time = GMT+3 hours
Visas
Required - obtainable an e-Visa online by your credit or debit card before you travel costs $20 or on arrival
Health Requirements
Make sure you are up-to-date on routine vaccines before every trip includes measles-mumps-rubella vaccine, diphtheria-tetanus-pertussis vaccine, varicella (chickenpox) vaccine, polio vaccine, and your yearly flu shot
Clothing
Most citizens of Turkey are Muslims, but Turkish society is secular and modern, so European dress styles prevail. For your holiday in Turkey, dress the same as you wear in your country