Evening Magical Muscat Tour
Evening Magical Muscat Tour
About 3 hours
Make an Enquiry

Tour Highlights

Trip type : Group Tours
Trip runs : Every Day
Pick-up Location :
Return To :
Pick-up Time : At 17:00
First drive to the Grand Mosque for a photo stop. The Mosque is beautiful by night, as it is illuminated from all sides with floor spot lights and the grandeur of its architectural genius truly comes alive! Next drive through the Embassy road, which is likewise a lovely sight with the tress flanking the pavements on both sides and forming dancing shadows on the lovely Embassy buildings built like typical Arabic villas. From here you will drive to the Corniche which fringes the old Muscat town – better known as Muttrah. The Corniche is near the main Mina Al Sultan Qaboos port of Oman and the Muttrah souk. A short halt will allow you to visit the souk and stock up on all the typical Oman souvenirs that are sold in almost every shop! At night all the ships in the harbour are also illuminated, especially His Majesty the Sultan's personal yacht. The next stop is the Bait Al Zubair Museum. It is one of the most informative museums in Oman and focuses mainly on the traditional culture and lifestyle of the people of the Sultanate. From here we proceed on to see the Sultan's Palace and the 2 forts Jalali and Mirani which guard it. The forts were built by the Portuguese in the 16th century. On the way back we shall pass through the old city of Muscat. Back to hotel /or dinner as follows (optional) Dinner at a typical Arabic restaurant, situated in the heart of the "new" Muscat. Dinner will include a set menu consisting of a variety of delectable Arabic specialties that can be chased (optional) by a deliciously flavored "hubly-bubly" (water pipe or shisha) to enhance the laid back mood!
MUSEUM AND GRAND MOSQUE CANNOT BE VISITED ON FRIDAYS OR PUBLIC/RELIGIOUS HOLIDAYS / GRAND MOSQUE SAT-THUR (08hrs -11hrs).
What's Included:
Pick up services from your hotel & return.
All transfers by an air-conditioned coach
English speaking driver during the tours
Entrance fees to all the mentioned sites.
All taxes & service charge.
What's Excluded:
Any extras not mentioned in the itinerary
Optional Dinner (per person 35 $)
Tipping
N.B: Rates are not valid from Al Sawadi Hotel / Al Nahda Hotel (Additional charges 45$ per person)
Prices per Person
Tailoring your trip

Call a specialist on
1-800-490-0512
This is a sample itinerary
and can be tailored by our passionate and dedicated Tour Consultants to suit your specific requirements and needs
Egypt Weather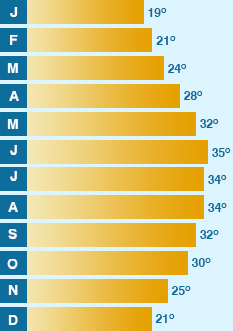 Average Temperature

Call a specialist on
1-800-490-0512