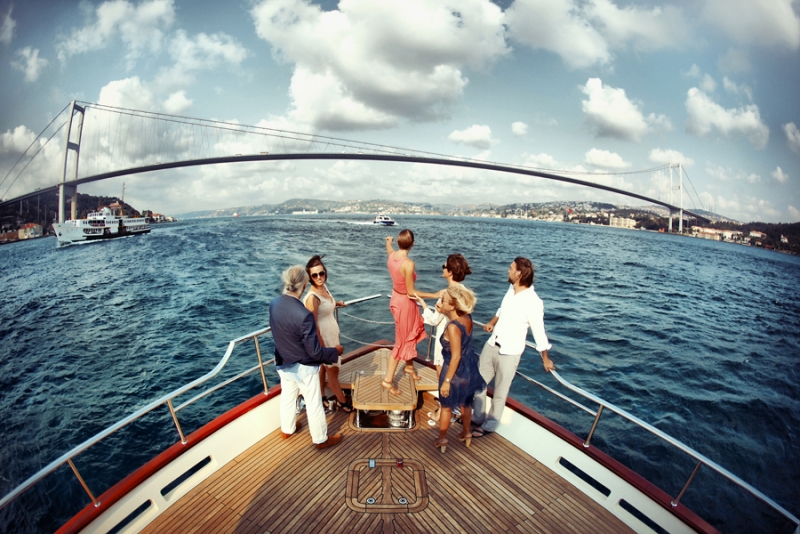 Bosphorus Cruise, Istanbul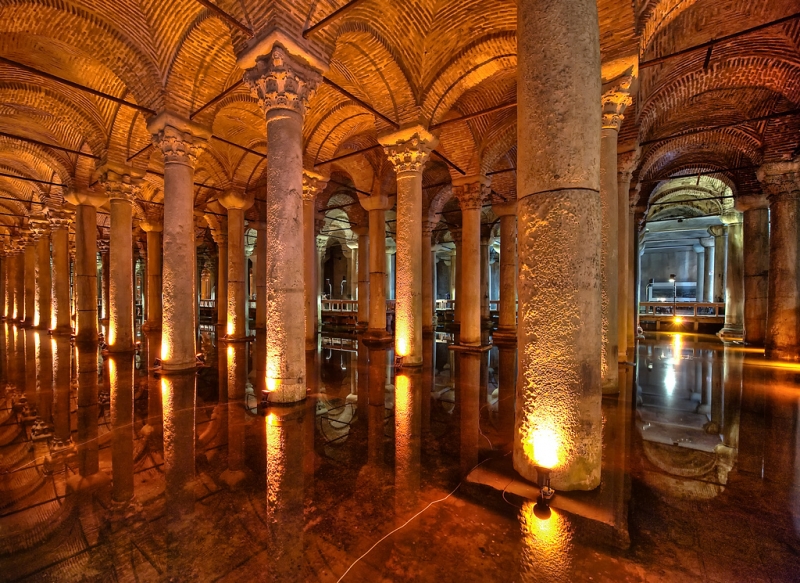 The Basilica Cistern in Istanbul, Turkey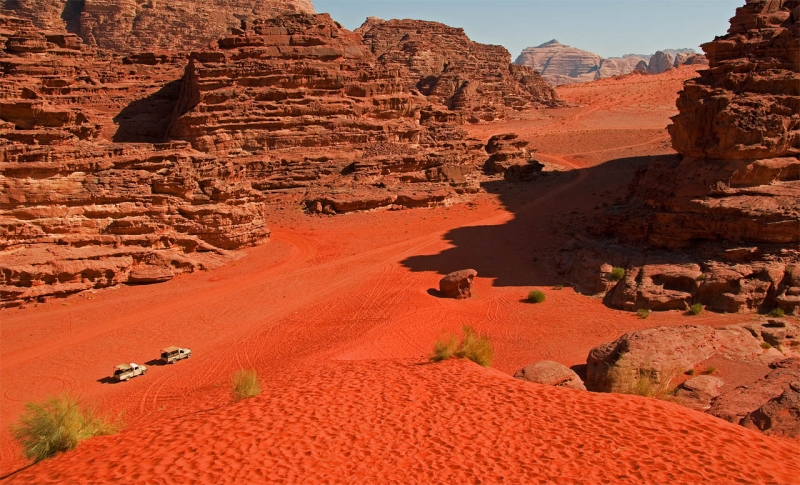 Wadi Rum Red Dunes, Jordan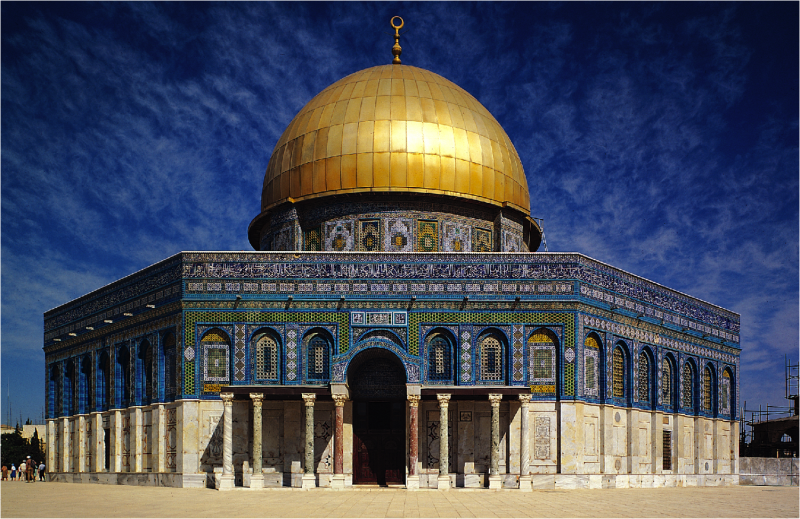 Dome of the Rock, Jerusalem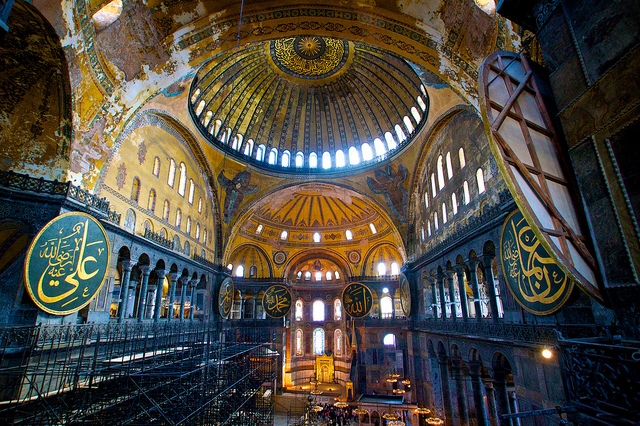 Hagia Sophia Museum in Istanbul, Turkey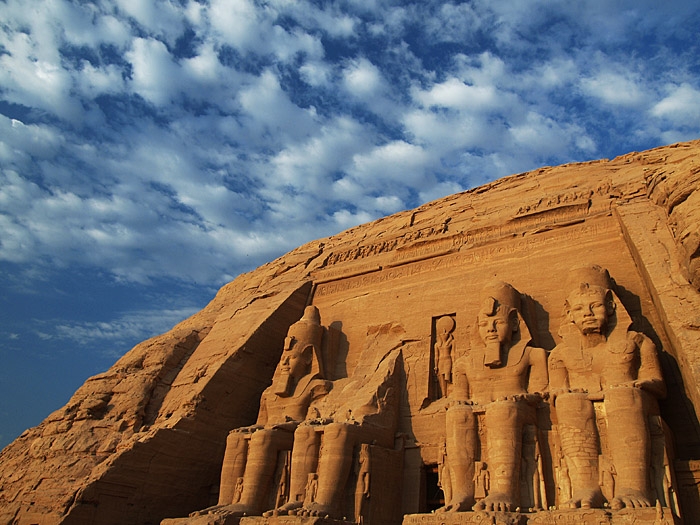 Abu Simbel Temple, Egypt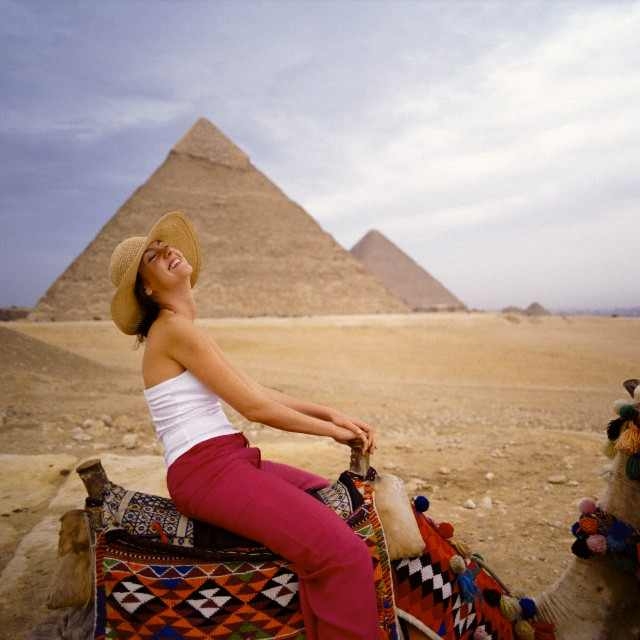 The Great Pyramids of Giza, Egypt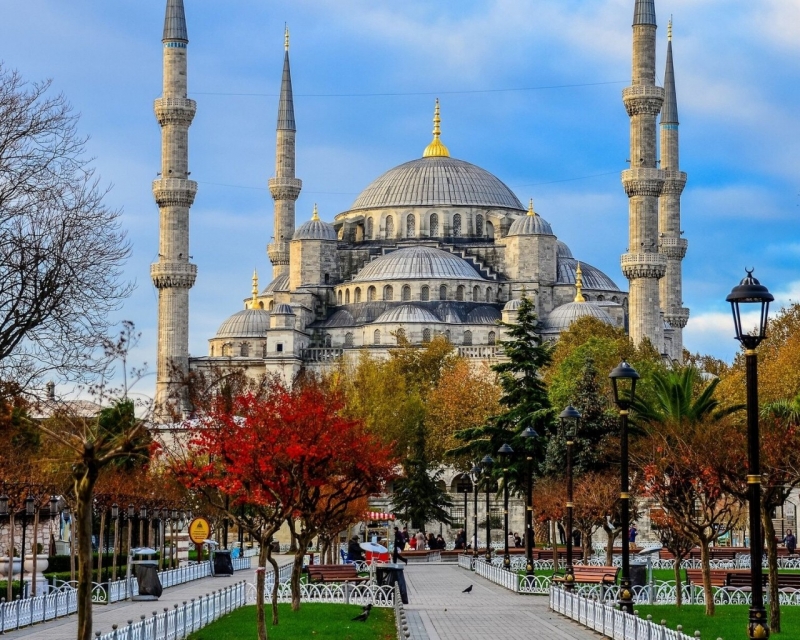 Blue Mosque, Istanbul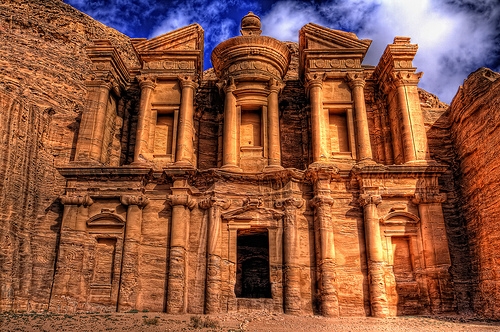 The fabulous Petra, Jordan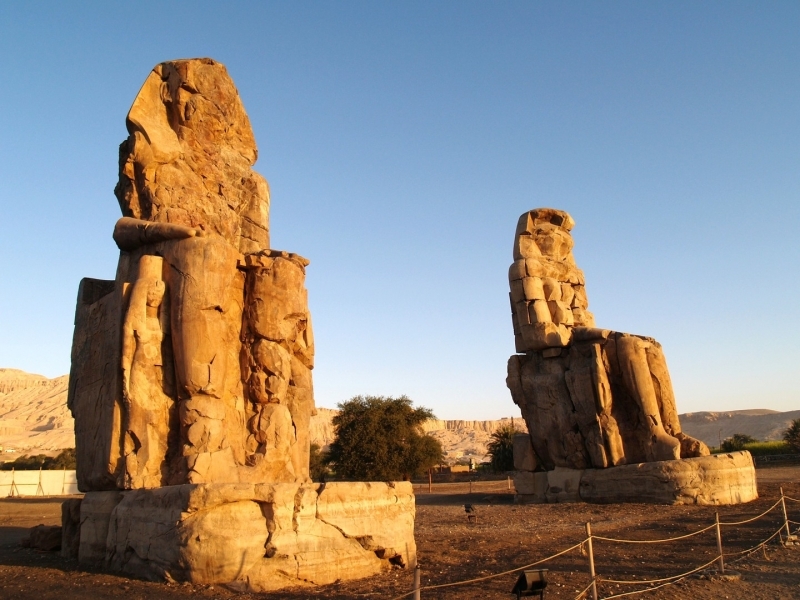 Colossi of Memnon in Luxor, Egypt
Enquire Now
18 Days/ 17 Nights
Type Private Tours
Schedule Saturday, Monday, Thursday
A unique Tour to the fabulous countries of Egypt, Jordan, Jerusalem and Turkey and enjoy the Pyramids in Egypt, The pinkish city of Petra, the Holly Jerusalem and the magnificent history of Turkey.
Itinerary:
Expand All
Day 1:Arrival Cairo
Your tour manager will meet and assist you at
Cairo International Airport
(
Arrival procedures
) and then he will escort you to the hotel by exclusive air-conditioned deluxe vehicle. At hotel the tour manager will assist with a smooth check-in and review your holiday itinerary with you to establish and confirm pick-up times for each tour. Overnight in Cairo.
Welcome Drink
Day 2:Pyramids Tour
Breakfast at your hotel in Cairo and then met by your personal guide who will accompany you to Giza Plateau to visit the Great Pyramids of Cheops, Chefren and Mykerinus - Famous Sphinx and Valley temple facing the great statue. Additional visit to the Solar Boat infront of Cheops Pyramid (extra ticket on spot). Then proceed to Sakkara area to visit Sakkara Complex and first pyramid ever built (Djoser Pyramid). Move to Memphis; Old kingdom's capital and famous Necropolis. Overnight in Cairo.
Meals: Breakfast, Lunch
Day 3:Cairo Tours/ Fly to Aswan
Day 4:Abu Simple Tour
Breakfast at your hotel in Aswan, then at 11:00 am enjoy a tour to one of Egypt's top tourist attractions, Abu Simbel temple, which were originally carved out of the mountainside during the reign of Pharaoh Ramesses II approximately in the 13th century BC, as a lasting monument to himself and his queen Nefertari. From Aswan to Abu Simbel is about about 03 hours drive one way. Overnight in Aswan.
Meals: Breakfast , Lunch
Day 5:Aswan Nile Cruise
Breakfast at your hotel in Aswan before transferring to embark your Nile River Cruise. Lunch on board then enjoy visiting the world famous High Dam, The awesome Philae temple, which is devoted to the two goddesses Isis and Hathor , and the largest known ancient obelisk, located in the northern region of the stone quarries of ancient Egypt, the Unfinished Obelisk. Dinner on board and overnight in Aswan.
Meals: Breakfast, Lunch, Dinner
Day 6:Kom Ombo / Edfu
Sail to Kom Ombo, have breakfast on board and Visit the Temple shared by two gods Sobek and Haeroris in Kom Ombo. Sail to Edfu, lunch on board after that visit the best-preserved cult temple in Egypt, Horus Temple in Edfu. Take afternoon tea during sailing to Esna. Dinner and overnight on board.
Meals: Breakfast, Lunch, Dinner
Day 7:Luxor West Bank
Sail to Luxor, have breakfast on board then Visit the West Bank, take an excursion to the royal cemetery for 62 Pharaohs, Valley of the Kings, then to mortuary Temple of Queen Hatshepsut, which was built by the architects of the New Kingdom Pharaoh Hatshepsut approximately in the 15th century BC , at El-Deir El-Bahari & the Colossi Memnon. Lunch on board. Enjoy afternoon tea during sailing. Dinner on board Overnight in Luxor.
Meals: Breakfast, Lunch, Dinner
Day 8:Luxor East Bank/ Sharm
Breakfast on board, Disembark from your Nile cruise after breakfast. Then transfer to visit Karnak and Luxor temples. Later you will be transferred to Luxor Airport for flight to Sharm. Most flights are indirect flight via Cairo Airport. Upon arrival at Sharm, you will be transferred to your hotel and overnight in Sharm.
Meals: Breakfast
Day 9:Sharm El Shiekh
Day Free in Sharm El Sheikh to enjoy the beauty of the city then to enjoy the crazy night life of Sharm El Sheikh which holds traditions from all over Egypt and the world.
Meals: Breakfast
Day 10:Sharm/ Wadi Rum/ Petra
Get you breakfast box, then you will be met by our representative at your hotel in Sharm El Sheikh and transferred by air-conditioned van class to Taba Border about a 03 hour drive. Here take on your own account a taxi between Taba and Arava Border and pay Israeli departure tax of 37 USD pp (not included in below rate). Jordan terminal you will be met by another representative who will assist you through immigration and then you will depart Aqaba for Petra. Along the way you will stop to explore Wadi Rum, where you will enjoy an exhilarating 4X4 ride visiting the Wadi Rum Eshreen, the Moving Sand, Al Khazali, Abu Aineh and Rum Mountain. You will see the trail of Lawrence of Arabia and the famous Red Mountains. Afterwards we proceed north to the spectacular lost city of Petra. Overnight in Petra.
Meals: Breakfast, Lunch
Day 11:Petra Tour/ Amman
After breakfast departure for a full day tour to the red rose city Petra, Jordan's biggest attraction. Petra was established around the 6th century B.C. by the Nabataean Arabs, a nomadic tribe who settled in the area and founded a commercial empire. Upon arrival you will begin the trip on horse back to the Siq, the canyon, and then by foot until you reach the most beautiful monument: the Treasury. Among other monuments you will see the Street of Facades, the Royal Tombs and Pharaoh's Castle. In the afternoon drive to Amman hotel for overnight.
Meals: Breakfast, Lunch
Day 12:Tour to Jerusalem
At 7:00 am pick up from your Amman hotel to head for the Allenby Bridge/King Hussein Border to leave Jordan. Your tour guide welcomes you, then drive via the Judean desert to the Holy City Jerusalem. You will start with a panoramic view from the Mount of Olives, and walk down to the Garden of Gethsemane and the Church of All Nations. In the old city we view the Wailing Wall, which represents the last remnants of the Jewish Temple, destroyed by the Romans. If open to visitors, you ascend to the Temple Mount to look at the famous Dome of the Rock. Continue on to the Via Dolorosa, which leads us to the Church of the Holy Sepulchre, where Jesus Christ was crucified and buried. Back to Amman and overnight in your hotel in Jordan.
Meals: Breakfast, Lunch
Day 13:Amman & Jerash Tour
Enjoy a tour in Amman to visit Roman Theatre, Archaeological & Folklore Museums, King Abdullah Mosque. Proceed to Jerash, the best example of a Roman provincial city in the whole Middle East, Nymphaeum, North theatre, Artemis temple, St. Cosmos and Demeanors church, south theatre. Back to your hotel and Overnight in Amman.
Meals: Breakfast, Lunch
Day 14:Fly to Turkey
Breakfast at your hotel in Amman followed by transfer to Amman International Airport for departure to Istanbul, Turkey. Upon arrival at Istanbul Airport you will be met and assisted, then transferred to your hotel in Istanbul, Turkey for check in with free time at lesiure and overnight.
Meals: Breakfast
Day 15:Bosphorus Cruise Tour
Breakfast at your hotel in Istanbul, then transfer to a morning scenic cruise on the Bosphorus, the strait connecting the Black Sea and the Sea of Marmara. The ferry stops on both the Asian and European sides for several times during the one-hour cruise. Later, we visit the Rumeli Fortress. Fatih Sultan Mohammed had this fortress in the European part built during the preparations for the conquest in an incredibly short time in 1452. Also, visit the spice market where a multitude of herbs have been sold since the 15th century. Back to your hotel and overnight in Istanbul.
Meals: Breakfast, Lunch
Day 16:Istanbul Sightseeing
After breakfast, enjoy a day of sightseeing with a tour of Topkapi Palace, residence of the Ottoman Sultans for about 400 years, with its fabulous collections of jewels and other artifacts. Also visit the Harem section, another palace inside the Topkapi, here you will hear of the history of eunuchs and the high education of the concubines. Continue the tour with a visit to Hagia Sophia, originally built as a church by Constantine the Great in the 4th century and used as a mosque during the Ottoman era until 1935 (today it's a museum encompassing both Christianity and Islam). Move on to visit the Blue Mosque, famous for its beautiful blue tiles decorating the interior walls. Built in the 17th century and both it and Hagia Sophia are considered masterpieces of their period. Continue to the Basilica cistern, the best known and the largest of the closed cisterns built under the Justinian basilica in the 6th century. Later, we will discover the highlights of the ancient hippodrome, Egyptian Obelisk, Serpentine Column, and others. Back to hotel and overnight. The duration of that day is approximately 07 hours.
Meals: Breakfast, Lunch
Day 17:Istanbul Tours
After breakfast, you will be guided to visit the Islamic Art Museum, where major pieces of Islamic art and ethnographic textiles are gathered from all over the country. After, walk to the Covered Bazaar, a labyrinth of streets filled with all sorts of tempting items to purchase: harem bracelets, colorful carpets, hand-painted ceramics, and more (it's said there are 3,000 shops!). A visit to Dolmabace Palace is included. This afternoon, enjoy a walking tour through the old streets and trade areas to the mosque complex of Suleiman the Magnificent, the most famous piece of Islamic art of the Ottoman Renaissance and built by the great architect Sinan. Back to Hotel and overnight. The duration of that day is about 06 hours.
Meals: Breakfast, Lunch
Day 18:Final Departure
After breakfast, transfer to Istanbul International Airport for final departure.
Meals: Breakfast
Included:
Meet and greet service by our representatives at airports.
Assistance of our guest relations during your stay.
All transfers by a private air-conditioned vehicle.
Accommodation for 2 nights in Cairo including breakfast.
Accommodation for 2 nights in Aswan including breakfast.
Accommodation for 3 nights on Nile Cruise on fullboard.
Accommodation for 2 nights in Sharm including breakfast.
Accommodation for 1 night in Petra including breakfast.
Accommodation for 3 nights in Amman including breakfast.
Accommodation for 4 nights in Istanbul including breakfast & all taxes.
Domestic flights (Cairo/Aswan - Luxor/Sharm).
All sightseeing tours in Cairo are private guided tours.
Tour to Abu Simbel Temples by land.
All sightseeing tours on the cruise as mentioned in the itinerary sharing Memphis Tours group.
Sightseeing tours in Petra, Amman, Jerusalem.
Short horse ride in Petra (included in ticket).
2 hours Jeep tour in Wadi Rum (drive & stops).
All Tours in Istanbul, Turkey as mentioned above are private tours
Bosphorus Tour on Cruise is sharing group
Private English speaking guide in Cairo.
English speaking guide on the cruise sharing cruise group.
Spot local English guide in Petra for about 03 hours.
English assistant driver in Amman city tour.
Spot local English guide in Jerash for about 01 hour.
English speaking guide in Jerusalem & Turkey.
Entrance fees to all sites as indicated on the itinerary in Egypt, Jordan & Turkey.
All service charges and taxes.
30 minutes of local calling (5 minutes international) and a mobile phone loaned for the length of your stay in Egypt or an Egyptian sim card for your unlocked mobile device
Excluded:
International Airfare
Entry visa to Egypt, Jordan, Israel & Turkey
Israeli departure taxes at Sheikh Hussein Border.
Any optional tours
Personal spendings
Tipping
N.B
Petra tour requires considerable walking, the number of horses in Petra is limited.
Incase the ferry boat from Taba to Aqaba has been canceled for any force majeure, you will cross the borders to Aqaba Jordan via Israeli borders. There is a fee to cross from Egypt through the Israeli Border into Jordan (approximately $32) and a taxi fee from the Israeli Border to Jordan (approximately $25). Once through the crossing, you will be met and assisted at Jordan by a Representative.
Accommodation Plan (A):
- Le Méridien Pyramids Hotel & Spa
- Movenpick Hotel Aswan
- MS Nile Goddess Nile Cruise
- Maritim Jolie Ville Royal Peninsula Sharm
- King's Way Hotel
- Geneva Hotel Amman
- Green Park Taxim Hotel Istanbul
| | | |
| --- | --- | --- |
| | May-Sept. | Oct.-April |
| Double | $ 3675 | $ 3795 |
| Solo | $ 6050 | $ 6299 |
Accommodation Plan (B):
- Fairmont Nile City Hotel
- Mövenpick Aswan Hotel
- MS Nile Goddess Nile Cruise
- Maritim Jolie Ville Royal Peninsula Sharm
- Marriott Petra Hotel
- Marriott Amman Hotel
-Titanic Business Hotel Istanbul
| | | |
| --- | --- | --- |
| | May-Sept. | Oct.-April |
| Double | $ 4100 | $ 4190 |
| Solo | $ 6795 | $ 6999 |
Prices

Prices are quoted in US Dollars per person per trip and valid till September 30.2016, except during Christmas, New Year & Easter holidays. The price of Solo is valid for solo traveler who is travelling alone.



Children Policy

0 - 01.99 Free of Charge
2 - 5.99 pay 25% of tour price
6 - 11.99 pay 50% of tour price
12+ pay full tour price as per adult person
If your tour package includes airfare then an extra charges for your children may apply.



Payment Policy

Reservations should be made as early as possible to book the desired Egypt tour, spaces will be secured upon receive a deposit of 25 %, and during the Christmas and New Year holidays and tour packages the required deposit is 50%. This deposit forms part of your final payment. Deposits can only be made by credit cards, wire transfer and or Western Union



Egypt Entry Visa

You need to have a valid passport at least 6 months beyond your scheduled return date to enter Egypt and you can obtain a visa from the Egyptian Consulate before departure. Also, entry visa is available upon arrival Egypt airports against USD 25 per passport for specific nationalities and need to check before.



Sleeper Trains in Egypt

Sleeper trains are designed and equipped according to a satisfactory standard and quality that was set up by the Egyptian Railway Authority. Sleeper train from Cairo to Aswan is about 14 hours and sleeping train from Luxor to Cairo is about 11 hours.



Additional Entry Tickets

All our Egypt tour packages and programs don't include entrance fees to special archaeological sites such as entering one of the Pyramids inside, to visit the Mummies Room at the Egyptian Museum in Cairo, to visit the Solar Boat Museum at the Pyramids area or to enter the Tomb of Tutankhamen at Valley of the Kings in Luxor.



Tipping

It is a customary attitude for expressing ones satisfaction of good services rendered to him by staff on duty with him. We advise if you are willing to offer it, this would be great and if not, you are not obliged to do it.
Best Time to Visit Egypt
An all year round destination with winter season being the coolest with still good average temperatures between 21- 26 degrees in the Red Sea resorts and Upper Egypt (Luxor/ Aswan) between 23 - 29 degrees
Flying to Egypt
Cairo for comfort and quality - EgyptAir and Delta Airlines (Scheduled Airlines only)
Flying Time
11 hours 50 minutes direct from New York
Time Difference
GMT +2
Visas
Required - obtainable in advance or on arrival for non-restricted nationalities
Health Requirements
No mandatory vaccinations
Clothing
Respectful attire in Luxor, Cairo and Alexandria on tours - More relaxed clothing in the Red Sea areas like Hurghada and Sharm El Sheikh